Travel Marché!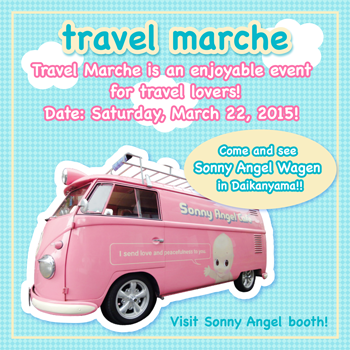 BON VOYAGE, one of our authorized retailer, will hold "Travel Marché" which is a fun event for people who love Travel, Zakka and Stationery!
So many Zakka, stationery and travel goods company will be gathered. It must be fun! Of course, Sonny Angel will be there too! You can see a real Sonny Angel Wagen bus at there!!
It is very rare to appear in front of you. Don't miss this opportunity!

DATE: Saturday, March 22nd, 2015
PLACE: Daikanyama, Tokyo
Special ticket is now on sale!
For more detail, please visit BON VOYAGE website. We are looking forward to seeing you at Daikanyama!