Important Notice Regarding Counterfeit / Unofficial Products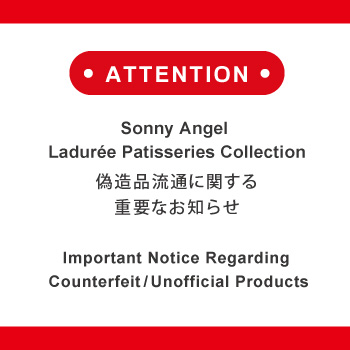 Dear Sonny Angel fans and collectors,

Thank you, as always, for supporting Sonny Angel.

We regret to announce that unofficial/counterfeit Sonny Angel mini figures from the Ladurée Patisseries Collection have recently been reported in the market.

The last production of this series was completed at the end of 2014. The Ladurée series was very popular and there are a limited quantity of genuine mini figures from this series still available for sale at retail stores.

If you find these figures in the market, there is a possibility of them being unofficial/counterfeit products.

Please understand that we cannot accept or take any responsibility for the replacement or return of any unofficial/counterfeit Sonny Angel products. We suggest you take caution if you find Sonny Angel Ladurée Patisseries Collection mini figures at unofficial sources.

We also strongly advise that you avoid purchasing any Sonny Angel products from unauthorized channels or shops so that you are not cheated or mislead by unlawful merchants.

Thank you for your continued interest in Sonny Angel and your understanding regarding this issue.