Sonny Angel's Exciting Trip to Hong Kong The Sonny Angel Hong Kong Paper Display Kit will be available exclusively at LOG-ON, City'Super in celebration of the store's 25th Anniversary!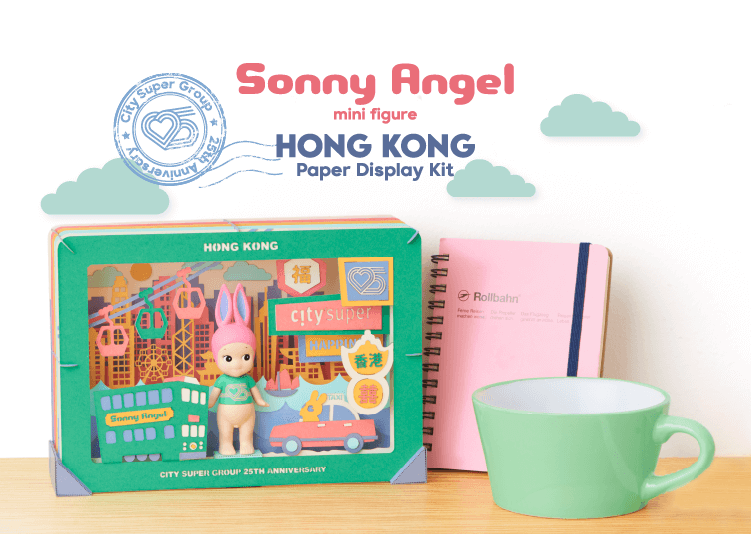 Both Dreams and City'Super were established 25 years ago. Together, the two companies have sponsored some fantastic projects. To celebrate the 25th anniversary of both City'Super and Dreams, we are releasing the City'Super "Sonny Angel Hong Kong Paper Display Kit" to showcase Sonny Angel's work with these two fine companies.
The Display Kit brings the Hong Kong cityscape into your home and allow you to decorate the city with Sonny Angels from your collection!
"Sonny Angel Hong Kong Paper Display Kit" is a DIY paper craft kit.
The Sonny Angel Hong Kong Paper Display Kit is perfect for those who love to craft and enjoy life to the fullest!
Sonny Angel travels to famous tourist locations in Hong Kong. While travelling, the company of good friends makes each journey more enjoyable! Sonny Angel's loyal friend, Robby Angel, is waiting for Sonny Angel at various Hong Kong destinations!
Time required to assemble: Approx. 2 hours
Contents: 1 mini figure / 9 paper craft sheets / instructions (Traditional Chinese / English)
Price: HK$250
SA designers, who love the Hong Kong cityscape, have designed each scene with great care and attention to create views of Hong Kong that all will recognize. The silhouettes are simple but full of character and fun. The entire kit includes a mix of City'Super colours and Sonny Angel's pink. The rabbit's t-shirt features City'Super's 25th anniversary logo inspired by "MIZUHIKI", the Japanese art of tying cords on gifts. The use of Mizuhiki in the City'Super anniversary logo expresses the relationship between City'Super and its global partners and customers.
Both City'Super and Dreams look forward to continuing for many years our mutual journey to delight you.
Please note that the actual product may differ slightly from the photo.