A Collaboration of 18 Different Artist Groups in Japan: We Are Pleased to Announce An Art Collection Exhibit with One-of-a-Kind Art Pieces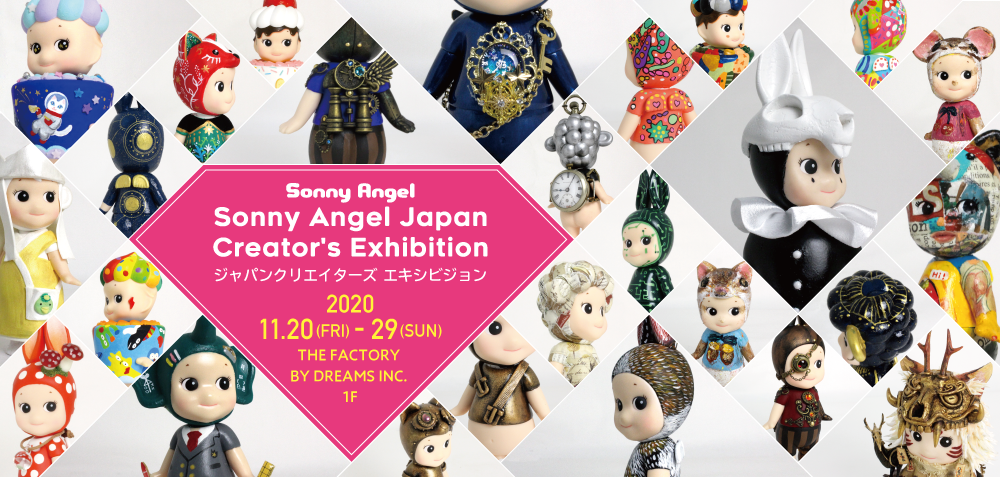 A Collection of Art from 18 Trending Creator Groups in Japan: The "Sonny Angel Japan Creator's Exhibition 2020".
18 different creator groups from all across Japan have contributed a total 25 art pieces across a broad range of genres.
Each one of the figures is entirely handmade and the only of its kind in the world.
You'll find the Sonny Angel series in never-before-seen designs filled will ideas borne out of the spontaneous inspiration and expression of each creator's style.
During the duration of the exhibit, Sonny Angel will be collaborating with Cafe au lait Tokyo
to bring you a limited-time Sonny Angel cafe menu alongside various Sonny Angel related merchandise.
The exhibited works will be available for purchase in a lottery format at our online store following the event.
Autumn is traditionally a season to appreciate art in Japan, so why not sate your creative appetite with Sonny Angel?
We are eagerly awaiting your visit.
Exhibition Schedule
How to Buy
●Because every one of the art pieces is handmade and one-of-a-kind, all of the works on exhibit will be available for purchase through a lottery system at our online store.
●You can submit your application for the lottery on the Sonny Angel official online store or at the event venue between November 20, 2020 (Friday) – November 29, 2020 (Sunday). Please note that all payments will be made through the online store, so you will need to register as a member on our online store before you can make any purchases.
Introducing the Participating Creators
●Special Assistant
This event was made possible thanks to the full support of the lifestyle shop A.D.NEEL and many different artists. You can check out the A.D.NEEL official site for more information on the participating artists' works.
>>A.D.NÉEL ONLINE STORE
An Introduction to the Works
For Details>>https://www.sonnyangel.com/en/artist-correction2020/