Collector's Trophy Lucky Draw Event!!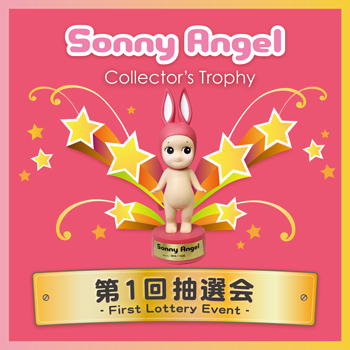 Someone who have a Collector's Trophy may get a special figure, which is produced only 5 pcs each!! We are going to hold this event on August, September, October, November and December.

Now, are you ready to see the first 5 winners of this event!?
Click here for more information >>
Travel with Sonny Angel Photo Contest!!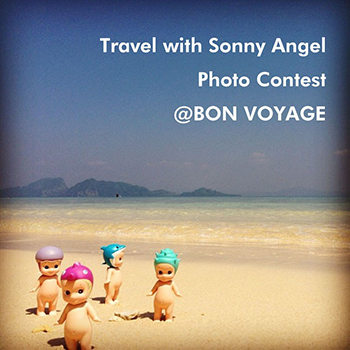 Let's go out with Sonny Angel and take some photos! Winners will get some present from Dreams or Bon Voyage!
Please send your photos to the email address below;
sa★elphas.net (change ★ to @)
RULES
*format: jpg (less than 1MB)
*If your photo contains people, please obtain permission from him/her to shoot and apply.
*We (Dreams/Bon Voyage) may use your photo as a promotional use.
*We accept residents in Japan only for this time.
*For language, Japanese and English only.
*Deadline: the end of September, 2014.
More detail…..
http://travel-camera.jugem.jp/?eid=1940#sequel>>
Sonny Angel collaborated with the world-famous Pastry Shop Ladurée!!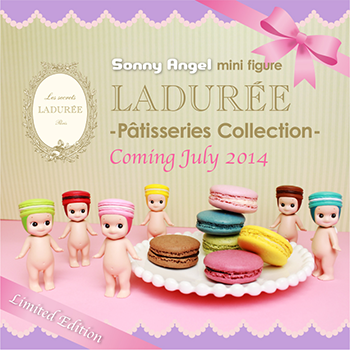 Finally, you can see everything about Sonny Angel Ladurée -Pâtisseries Collection- !!
These Sonny Angel are the most beautiful and sophisticated ever, and you must see them! This limited edition will be released on July 15, 2014.

For more detail >>
Popularity Poll 2014 Wallpaper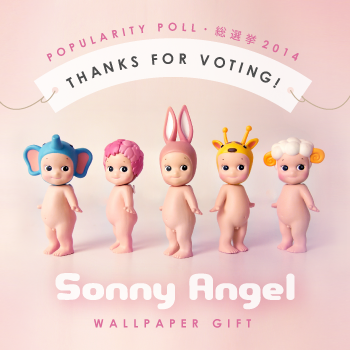 for voting for Sonny Angel Popularity Poll! We have a special wall paper present for all Sonny Angel fans! These 5 characters were ranked in the TOP!

Download here>>
Celebrate 10th anniversary at Sonny Angel's birthday party!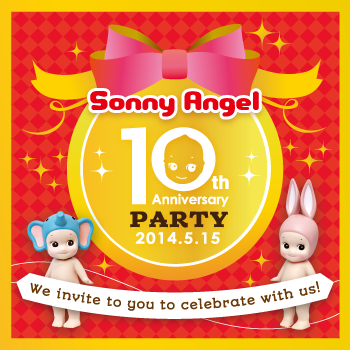 Sonny Angel has reached 10th birthday in 2014.
Thanks very much for everyone's support for Sonny Angel.
In commemoration of Sonny Angel's 10th anniversary, we are going to hold Sonny Angel's birthday party!
And we will invite 50 pairs, 100 people to the party!

Date&Time Thursday, 15th May, 2014
First half 6pm~
Second half 7pm~
*We divide in 2 groups to reduce congestion.
*Guest cannot choose which one.
Place: Shibuya/Harajuku

for more information…>>
NYLON JAPAN collaborates with Sonny Angel to celebrate 10th anniversary each other!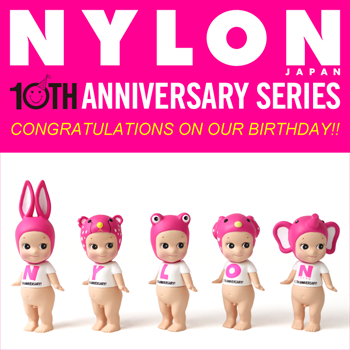 NYLON JAPAN, fashion magazine supremely favored by world fashionista, collaborates with Sonny Angel to celebrate 10th anniversary each other!
5 characters from Animal series 1 wear T-shirts which have "NYLON" initials on, and they will come with the magazine, NYLON JAPAN June issue. Sonny Angel and NYLON JAPAN both came to 10th birthday in this year, and these figurines are very commemorative model, produced only 1000 pcs. Please check out NYLON JAPAN June issue.
NYLON JAPAN>>
*Please note that we are not going to sell this Sonny Angel on our online store and retail store, and will not distribute to other country either.
This Sonny Angel will be available only Online book store in Japan (Amazon. Elpaka,Rakuten ).
Amazon>>
Elpaka>>
Books Rakuten>>
Whole 10-year history of Sonny Angel is in this book!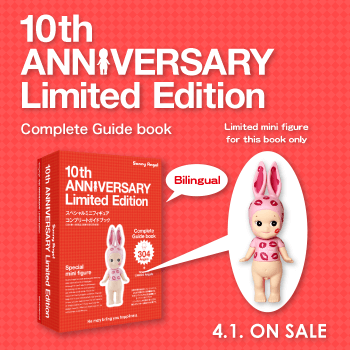 We are going to release a complete guide book in commemoration of Sonny Angel's 10th anniversary.
You can see 337 Sonny Angels in this book, including limited series and figurines which never been sold. This book introduces you all about Sonny Angel mini figure. You wouldn't see this much of information in any other place. It will be on sale at our online store and bookstores in Japan.

Detail is here>>
SonnyAngelStore is here(available on 1st April)>>
The results announcement of Popularity Poll 2014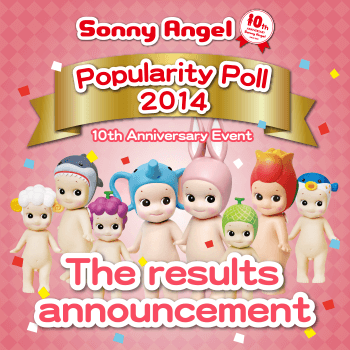 We hold a Popularity Poll 2014.
Thank you for a lot of votes.
To commemorate this, We will distribute Special wall paper free which will be designed with Higher-ranking figure.


Result of Popularity poll 2014>>
Sonny Angel 10th Anniversary Event Popularity Poll 2014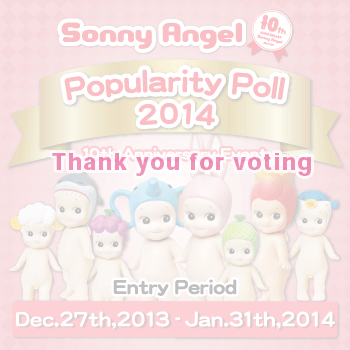 Thank you for voting.
Reception of voting has been closed.
We will announce the results of popularity poll February 12, 2014.

We celebrate Sonny Angel's 10th Anniversary, and hold a Popularity Poll 2014. Vote your favorite mini figure now (secrets excluded), and let's see which mini figure is the most popular!
[Vote Period]
December 27, 2013 17pm ~ January 31, 23:59

Details for Popularity Poll >>

Sonny Angel 10th Anniversary Event Photo Contest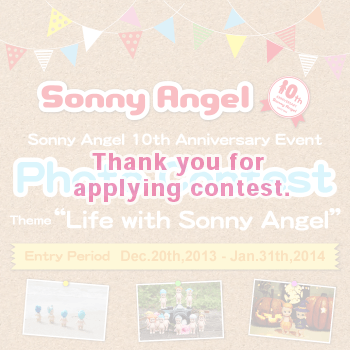 Thank you for applying contest.
Reception of applying has been closed.
After the judgement, we will contact the winner directly in the beginning of February.

We celebrate Sonny Angel's 10th Anniversary, and hold a Photo Contest.
This is a collaboration event with a Sonny Angel Mook Book which will be published in April 2014.
Photos by winners will be printed in the book.
Please submit a picture which has more than one Sonny Angel in.
Entry Form>>